Who hasn't heard of Pro Tools? This music software is used by the world's most famous sound producers: Rick Rubin, Mark Ronson, Pharrell Williams, Trent Reznor, and many others. The people behind Pro Tools pushed the boundaries of what's possible in today's music and continue to do so. Here's an interesting fact for you! For more than 15 years, a team of Ukrainian developers has been working on improving and updating Pro Tools at the headquarters in Kyiv. All of them are employed by a Ukrainian company GlobalLogic, a long-time partner of an American technology and multimedia company Avid Technology, owning Pro Tools, Sibelius, and more.
For a long time, Oleksandr Dzyubenko was employed as an IT specialist for Avid. Recently, he went solo and, together with his friends Anton Severynenko and Denys Borysov (formerly known as the electronic duo Outstrip), launched his intriguing project, an electronic music store for Pro DJs called Volumo.
The Volumo team has flown in for the International Music Summit in Ibiza, an annual event gathering the top players in the dance music industry. Volumo is getting much attention from labels and distributors. They are a little nervous before the numerous meetings but full of optimism. We talked in the morning on the eve of the summit.
---
Hi guys! How are you doing? Planning to surprise the discerning local public with your new product?
Oleksandr: Yes, but we are more surprised ourselves so far. It is my first time in Ibiza, and I am impressed by the local atmosphere that organically combines work and rest. There are so many important meetings waiting for us that you start to look at the meaning of the phrase "elevator pitch" in a new way. I'm still brainstorming ways to spike my industry colleagues' interest.
Denys: If they at least remember our name, that will be rad!
Let's give it a try right now. I turn on the timer, and you only have a minute. So, tell us about Volumo!
Anton: Which version are you interested in, B2B or B2C? [laughing]
Oleksandr: Okay! Volumo isn't "just another store" on top of Beatport, Traxsource, or Juno Download. Thanks to numerous innovations and a flexible approach to creating Volumo, we can call ourselves a "new generation store." Based on the Volumo site, we try to combine the concept of a curated platform, elements of a social network where you can follow your favourite artists or share your playlists, and, in fact, the store itself, in which we move along the path of modern video streaming: people, first and foremost, come to you for exclusive content.
Anton: Yes, yes, exclusive content is what immediately sets you apart. And only then do you pay attention to the details: design, user experience, page or player loading speed, etc. As a DJ, I started looking for music on Beatport: I listened to all the new releases and fresh releases from well-known, respected labels. This is called searching, a mandatory part of a DJ's work. Because you must keep your finger on the pulse, it is also natural for a DJ to aspire to surprise the audience, to include something special, some incredible finds in his sets. And then you move on, looking for smaller sites, stores where music is hidden from the general view. That's the beauty of music, and it is called digging. Eventually, it makes you an original first and, ultimately, a professional DJ.
Denys: … and when we asked ourselves what made us go to stores much smaller than Beatport, we concluded that it was exclusive music. But giving it to people is a challenging task. One part of the equation is signing an agreement with a large distributor and adding tens of thousands of tracks to the store, while the other is an individual approach to each label, each artist, and even each release of this artist.
So, aren't you competing with Beatport?
Oleksandr: Formally, we are competitors because we work in the same field. But we are different. It would be simplistic to say that we are small, and Beatport is big. We don't want to be a second Beatport even if we grow large. We have a different strategic vision and a different set of priorities and goals.
Anton: I think there is a way to explain it in simpler terms. Read the open letter of Beatport's former CEO and founder, Jonas Tempel, and you will better understand what Oleksandr is trying to say. Once upon a time, Beatport was an ambitious but romantic startup company of people who loved electronic music. But over time, the store became more oriented toward the mass market because it is a more attractive business model. Therefore, now, for example, they are developing their streaming, and now it is a kind of "Spotify for ravers and clubbers." First, we rely on authors and labels and want independent artists to receive a decent reward for their music. Therefore, we promote the downloads model and are the first among all stores worldwide to allow artists to set their release prices. There is no such option on Beatport, and it's not likely there ever will be one.
Doesn't Bandcamp offer something similar, however?
Denys: Yes, but Bandcamp is not a store. It is a multidimensional space where everyone creates their store. They have specific legal reasons for this. And I understand them well. We love Bandcamp and respect their contribution to the development of independent music. But the fact that they are not a store makes their service somewhat limited. For example, Bandcamp needs a well-functioning search by artists, releases, and labels via keywords. They make up for it handsomely with their curation initiatives and editorials, but the need for search is their Achilles heel.
So, saying that Volumo occupies a niche between Beatport and Bandcamp would be a fair assessment, wouldn't it?
Anton: We used to say so ourselves, but now we understand that such wording needs to be corrected. Yes, our store is ideologically closer to Bandcamp, but we gravitate to Beatport in terms of content. If you delve into the details, there are many nuances, and I'll try to explain… The underground music that partially remains "in the shadow of major artists" on Beatport is more widely represented on our platform. It is not a risk for us to show it on the site's main page and focus users' attention on it. These are the genres concerned: tech-house, micro-house, rominimal, deep-techno, etc. This music is yet to be represented on Bandcamp. And even if it is there, then its sales are negligible.
Denys: Yes, I feel like Bandcamp is about world music, modern jazz, metal, experimental non-dance electronica, ambient, soul, and some interesting alternative hip-hop. It delivers about anything except a steady flow of underground dance music.
Oleksandr: As you can see, we thoroughly studied the field before launching Volumo. Therefore, we are confident that we will be able to take our place in the market and, in the end, everyone will benefit from this. Because music seekers can get on our site something others do not have. And there will be less pressure from users on those stores themselves because they have consciously given up on the solutions that we are implementing now.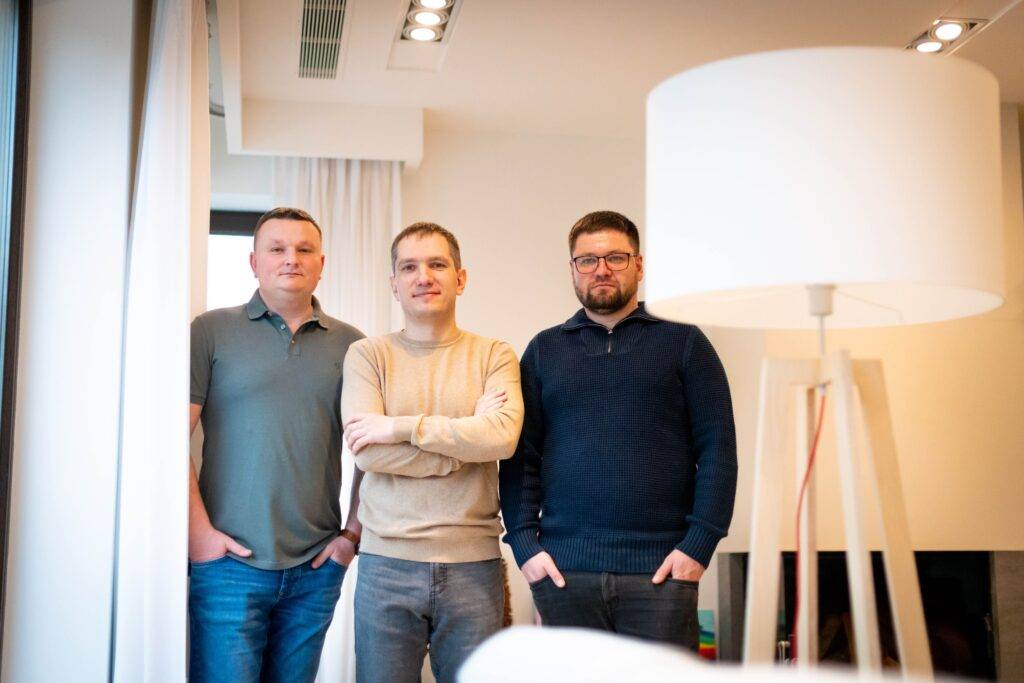 Thank you! Now I finally have a picture.
Oleksandr: Although it took us more than a minute. So, I still have a lot to work on.
Anton: Yes, we can make it in time only if we meet a potential partner sometime in Burj Khalifa's elevator. [laughing]
Denys: But in Ibiza, there seem to be no skyscrapers. So, let's use a proven recipe of interesting conversations mixed with cocktails. I will have to remember the DJ experience from my youth.
If you want to meet the Volumo team during IMS, feel free to reach them at [email protected]
---