Emerging out of Los Angeles' musical whirlwind, SØUNDHOOSE are known for a gritty alt-rock sound, anchored in seminal bands such as Linking Park and Blink 182. Originally debuting in 2019, the group has been particularly active in the past couple of years, experimenting with their musical formulas and opening up their sound to more pop and electronic influences.
Their latest release, 'Loner', showcases exactly that: still revolving around the group's energy and punch, the record features electronic inserts, together with mellower vocal melodies and friendlier distortions. Lyrically, they aim to shed a light on mental health and the stigma around it.
Intrigued by the project, we caught up with SØUNDHOOSE to find out more about their artistry and future goals… Interview below!
---
YMX: Hey guys, how is it going? some of our readers might not be familiar with your project, how would you describe yourself, in a few words?
SH: We're an energetic, fast-paced, crowd-engaging alt-rock band that focuses on promoting mental health. We love what we do and we want to give the best possible show every time we take the stage.
YMX: Your current work is the result of a long journey; How did you get together?
SH: I (Brandon) met Paul on Halloween of 2020. We met at a friend's party and I went into the basement to jam on my own while everyone else socialized outside. Paul came down and wanted to play too. We started jamming some Green Day and Blink 182 songs and realized we both loved the same artists. We bonded pretty quickly. Jeremy joined about 8 months later after filling in for one of our shows and we absolutely had to have him. Luckily, he said yes and it's been a happy union ever since. The music has grown and improved so much since those two joined, and it's much more fun making music with your best friends when we all three can contribute to it.
YMX: If you had the opportunity to pick any artists in the world for a collaboration, who would be your first choice? (and second choice, perhaps?)
SH: Yungblud…Dom is so incredibly talented, and we share the same views on mental health and loving who you are. We'd also like to have a female vocalist on one of our tracks so we think Leah Kate would be a great artist to have.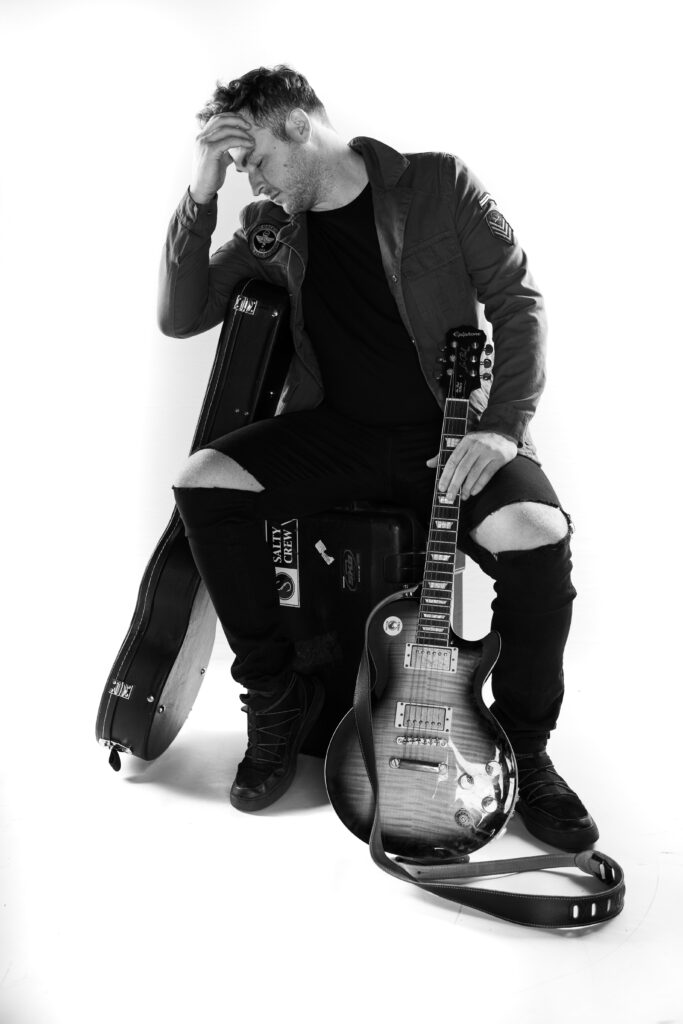 YMX: You recently released a catchy rock banger, 'Loner'. I get the sense you wanted to make it a catchy, simple track (working well on TikTok too). Am I right? What does the track represent for you?
SH: We don't make music for any algorithms. It never crosses our minds. Unfortunately, that's been something that seems unavoidable in the industry today, but we do what we feel is right and every song is an expression of how we're currently feeling. "Loner" has a simple chorus, but we wanted to exaggerate the repeating question, "why does the world hate me?". So many times we find ourselves getting a bad hand and ask ourselves "why is this happening to me?" It's a feeling we think others can relate to as well. We list all of our insecurities and try to get the point across that it's okay to not be okay. No one's perfect, and we'll never claim to be.
YMX: How does your songwriting process work? Do you write all together in the rehearsal room?
SH: It constantly changes. Sometimes the music comes first and the lyrics will follow based on the mood of the instrumentals. Other times we'll have an idea lyrically and then the music follows. We don't like having the same process each time and don't think a calculated approach is the way to go. Most of the time we just go with whatever feels right at the moment and think it keeps things authentic. With the newer songs, we've seen that the dynamics are better, the ideas are better, and the overall songs are better.
Before Jeremy and Paul joined, I (Brandon) would write all the songs and it seemed pretty plain. It wasn't bad by any means, but it wasn't "Soundhoose". I can't play drums the way Paul can, and I certainly can't play bass the way Jeremy can. They're both incredibly gifted and now that they're a part of the creating process, the songs are 10,000 times better. It sounds even better than the way I originally envisioned them to be. With "Quarantine Psycho" and our older tracks, I would make a song and then take it to Paul and Jeremy and say, "here you go, have fun with it".
They completely did their own thing and the songs went from decent to WOW. At some point, we'll probably go back and make new versions of them. With our newest track, "Phobia" (which is currently unreleased), we were at rehearsal for a show that was coming up, and we finished early. Jeremy started playing a bass line and then Paul played along to it. I joined in and we pretty much played the entire song without any lyrics in one take. We all looked at one another and thought, "holy shit, did we just come up with a new song?" It was the first time we all three came up with something together organically. Jeremy and I finished the lyrics that day.
YMX: Your sound has become more 'chart-friendly' this year, and with that I mean there's more emphasis on storytelling and less on distorted guitars. Does that feel like the right direction to take?
SH: It's interesting hearing that take. Again, we don't have a calculated approach. We don't want to do the same thing each time and we like to experiment with our sound and see what we can come up with. Storytelling has been a focal point more so recently because we're trying to be as authentic as possible, but we also want to try new things and not keep ourselves in a tiny box musically. The music guides us and we go wherever it takes us.
YMX: Artistically speaking, what challenges have the last two years presented you with?
SH: The biggest thing that comes to mind is the fact that it seems like the only way to make it in today's world is by going viral on social media. Music is being created for all the wrong reasons just to get likes and beat an algorithm. We make music because it's in our DNA and we're a direct representation of our discography. We need it in order to survive because it's how we cope with our struggles and it seems that social media doesn't care about that. They want the next trending song and it always seems calculated, because it is.
In 20 years, there will be all new apps and it'll be the same story. Our music however will remain the same. We want our fans and listeners to love it just as much as they do now. The other issue for an unsigned band is money. We have to do everything ourselves, from creating the music, recording, mixing, mastering, promotion, paying for good quality music videos, editing those videos, playlist curating, trying to sell tickets to our shows, gear, and touring. It all costs money and every extra penny we have goes towards our music. It's mentally and physically demanding, but it's what we have to do.
YMX: What are the next steps for your project? Anything exciting on the horizon?
SH: We've got a music video for our last single, "Phobia" coming out before our first full-length LP, "Craniotomy" comes out early next year. We've got a couple of shows to end the year, one of which is in Las Vegas. We'll be on CBS' "Songs of the Underground" and look forward to our goal of touring at some point next year.
---
RECOMMENDED!