Emerging from California, Venus In Arms is one of those acts that leave a strong impression on you – from the first notes. That's how we felt upon discovering 'Fantasy', the project's latest effort. In it, the listener will enter an ethereal, dreamy and dynamic artistic universe, made up of bright and dazzling synth tones, organic drums and a certain shoegaze flair.
Self-produced by Venus In Arms herself, the record showcases the work of a clearly talented creative, blending songwriting inspiration with visionary sound design. It all takes shape in 'Fantasy', a single that we are confident will attract a larger audience to the project.
Crucially, a music video is also been released, produced on a limited budget by award-winning filmmaker Jimena Muhlia. Intrigued by her, we caught up with Olivia – the human behind Venus In Arms – to find out more about her future goals and artistry… Interview below!
---
Hey Olivia, how is it going? some of our readers might not be familiar with your project, how would you describe yourself, in a few words?
I'm an artist born and raised in San Francisco, CA and Venus in Arms is my solo project. I write and record all my own original compositions and my focus is on expressing my feelings and creating something that feels right in the moment. I write as a form of therapy and I hope that listening to my tunes can provide a similar experience for others. Connecting to others is also important to me and why I release the songs rather than keeping them to myself!
Your current work is the result of a long journey; What first drew you to making music?
My love and interest in music started at a very young age, but I didn't start performing as a musician until later in life. I would say what drew me into making music was the emotional connection I had to certain songs and sounds in songs. There are certain songs I can't imagine living without, and that to me is like a superpower! I wanted to be able to learn to create that for others.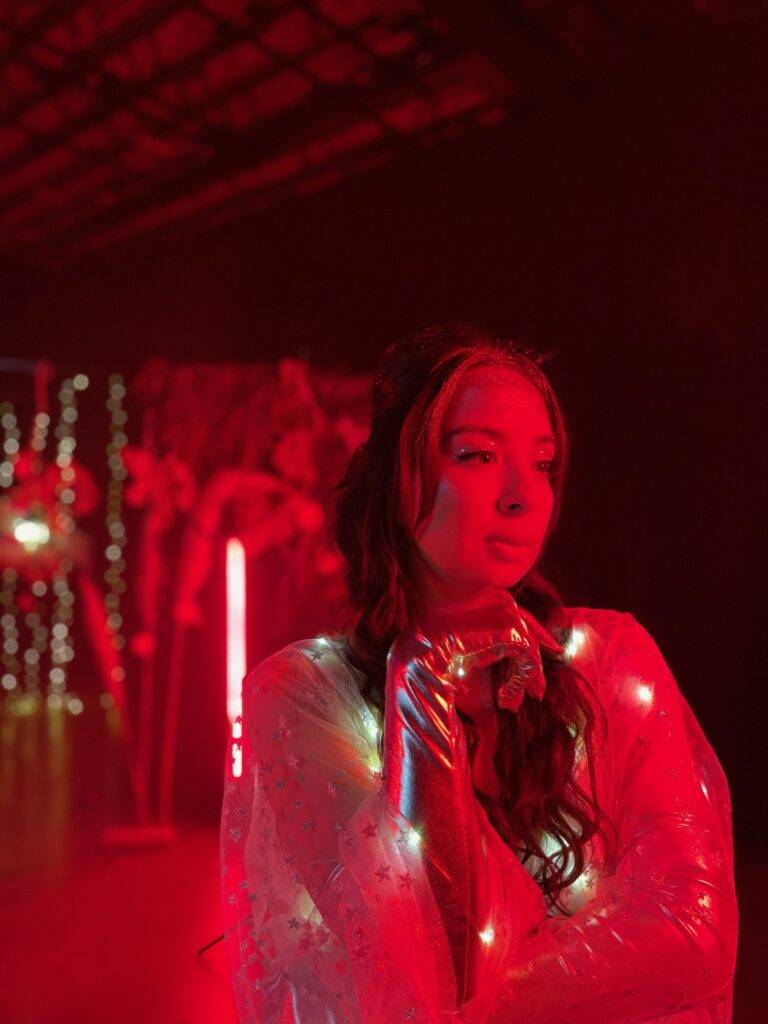 It was interesting to notice that you are a 'veteran' of a couple of really cool electronic projects – how have those experiences shaped your solo endeavour?
My time in Breakdown Valentine and writing and playing music with Allen Davis has had an astronomical influence on how and what I write today. A few things I learned were– it's not always about the lyrics (ouch, but true for some songs!) and it's best to practice under imperfect circumstances so you're ready for any kind of sound stage.
I also gained a huge love for synthesizers AND learned I can play bass during that time. I had to pick up the bass in two weeks so we could perform our first show which we got booked for before even releasing a track. It was a wild time! Learning how to play different instruments during my time on that project has led me to the freedom of writing my own songs.
You have just released a stunning, ethereal and magnetising electronic gem, 'Fantasy'. We are pretty fond of the dreamy/shoegaze vibes found in the track. What does the record mean to you?
First off, thanks so much for the kind words. The meaning of this song has morphed so many times for me. I've been immersing myself into self-work and it's one form of expression during this time. It started out being about accepting the fact that no one person can be your absolute everything– that's a lot of pressure!! But as I went into the video-making phase, the song changed meaning again. and again. I look forward to hearing how people will define it for themselves.
Can you guide us through the solemn music video accompanying the song? How important is it for you to have a visual 'counterpart' to your music?
I really wanted a cinematic video to match the song's energy, so I partnered with Jimena Muhlia who is actually an award-winning film director. We started off the project by sharing what we felt from the song and what it meant to us at that time, and then we melded the concepts.
She had this awesome concept of me playing different characters– we started with something crazy like 20 and got down to 5– the Superstar, Mystic, Housewife, Scientist, Superstar Red. The Superstar plays the character I always dreamed of being as a child. The other characters represent fantasies I may have had while growing up or felt others had for me. Ultimately there's a pull towards that inner passion that never dies and the rest of the video is up for interpretation! (Shoutout to Nicki Skalamera who drove across California with me and was also a huge part of any of this happening! So many people I love jumped in actually. I'm grateful.)
Having a visual counterpart to my music tends to be important because I'm a visual person and enjoy taking in information that way. But it's not a necessary thing to have. This song was just screaming for a video!
Do you feel more confident writing music alone, or within a team?
I would have to say alone. Although when I'm alone, I sometimes miss collaboration, and when I'm in a band, sometimes I want to be alone in my room. 🙂
Artistically speaking, what challenges have the last two years presented you with?
My sometimes present self-doubt. But I'm learning to befriend fear and throw him in the backseat!!
What are the next steps for your project? Anything exciting on the horizon?
I have another single to release in the coming months, planning to release an EP towards the end of the year, and would LOVE to play live again. Working towards that for sure.
---
RECOMMENDED!