When I discovered Marshall Fassino's brand new Tom Petty-esque single 'What We're Sold', I was instantly on board with the Nashville-based musician! I then dug a little deeper into his discography and came across an artist who produces heart-on-sleeve and sincere music that deserves to be heard.
Intrigued to find out a bit more about Fassino, I was really stoked when he agreed to chat with us! Going in-depth about his musical journey up to this point, what "being successful" in the industry looks like to him, and his pure, unadulterated love for The Band, please give a big welcome to our new friend Marshall Fassino!
---
Welcome aboard Marshall! I'm really stoked to be able to introduce you to our audience today! Before we get into the nitty-gritty, could you tell us a little bit about your musical journey? What has led you to where you are today?
I can tell you my musical journey has been a long and winding one. I got my start in garage bands in high school playing a lot of Weezer covers. After that, I played in various bands around the Twin Cities area of Minnesota honing my skills and getting a taste of the life of a gigging musician. Out of college, I moved to California to work as the manager of a recording studio whose past clients included Tom Waits and The Grateful Dead. It was an awesome experience but ultimately I left to continue pursuing a career in playing. In the early 2000's I started the first serious project of my own music called True Mad North. We played a few SXSWs and put out an album in 2007 that featured a duet with Chauntelle Dupree from the band Eisley and a landed gig opening for Selena Gomez, both of which were quite unexpected. Fast forward a couple of years and I joined a band from the Bay Area called Jet Trash which would lead to my first publishing deal, recording with producers Andy Freeman and Alex Newport, and having a song I wrote end up in a BMW commercial. After that project fizzled I decided to move to Nashville to focus on my own music again. After a few years of getting my feet under me, I began to write and record the album that this most recent single 'What We're Sold' can be found on. And that pretty much brings us up to date!
I've fallen deeply in love with your latest single 'What We're Sold' – it's just so warm and beautifully laced with elements of nostalgia. What does the song mean to you?
To me, the song is my way of reckoning with the notion that things don't always end up the way we want them to. Our younger selves are filled with wide-eyed optimism and a kind of sweet naivety about the future and about how our lives will turn out. But as we get older, unless you're one of the lucky ones, we often have to make concessions and find ways to deal with the many ways life can let you down. Sometimes we do things and cope in ways we aren't proud of. But it's up to you to move forward and keep working towards the things you want out of life or else you'll wind up getting swallowed whole. The chorus is a pretty simple one: "Honey that's the way it goes / The world ain't always what we're sold." We're so often fed an idea of what success looks like or what we should have accomplished by a certain point in our lives, but that isn't always the way it works out. So just keep going until it does.     
I definitely get a bit of a Tom Petty vibe with the tune, and he's an artist I adored who was taken from us too soon! Are you a fan? Who would you put down as some of your biggest musical influences?
I am in fact a MASSIVE fan of Tom Petty and you are spot on in your assessment of this track! My dad had a significant influence on my musical tastes growing up and Tom was one of his absolute favorites. 'Wildflowers' was an album on constant rotation in our house and it's pretty clear if you listen to all of the songs on my upcoming album that he's informed quite a bit of them. For the most part, I played all of the instruments on the record myself, and I am probably the weakest as a lead guitarist. It would take many, many attempts to write and record most of the guitar solos I played on the album (including the one on 'What We're Sold') but more often than not I felt like they all wound up sounding like something Mike Campbell would play. I consider that a big success on my part haha! To me, he's everything you want out of a lead guitar player. Brilliant but not flashy. The kind of guy who finds the right part for the song, sticks to it, and executes at the highest level. I guarantee that if I asked you to sing the solo to 'Mary Jane's Last Dance' you could do it almost note for note. In my opinion, that's the hallmark of a truly great guitarist. Someone who strives not just to be good, but also memorable as well.
Aside from Tom Petty, I think it's pretty easy to tell I love the "classics". Big Star, The Rolling Stones, The Beatles, Steely Dan, The Stooges, The Clash and all things like-minded. If I had to pick my two other major influences on this album I would say Wilco and The Replacements. As far as Wilco goes, I just love Jeff Tweedy's songwriting and the emotions he's able to conjure up without being overt or heavy-handed. They are the perfect model for the type of band I would want to be in. And growing up in the Twin Cities area it was only a matter of time until I got way into Paul Westerberg and The Replacements. He's another guy who is so expressive with his writing and can cut to the core with what seems like the slightest effort. Plus getting kicked off of SNL for dropping an f-bomb on live TV is pretty excellent too.
Now, I know this is a toughie, and possibly like asking you to pick a favourite child, but which tune of yours are you most proud of to date, and why?
I would be remiss if I didn't say 'What We're Sold' because that's the song in question here but I'm also pretty proud of my last single 'Promised Land' as well. Normally when I write, most of my songs are about heartbreak in one way or another and usually pretty personal and specific to me. In the case of those two songs, however, I was pleased to discover I had struck a balance between personal and a bit of social commentary at the same time. We're living in a strange and tough world so it feels kind of selfish to spend all your time being inwardly focused. I wanted to move my gaze beyond myself and I think 'What We're Sold' and 'Promised Land' did just that.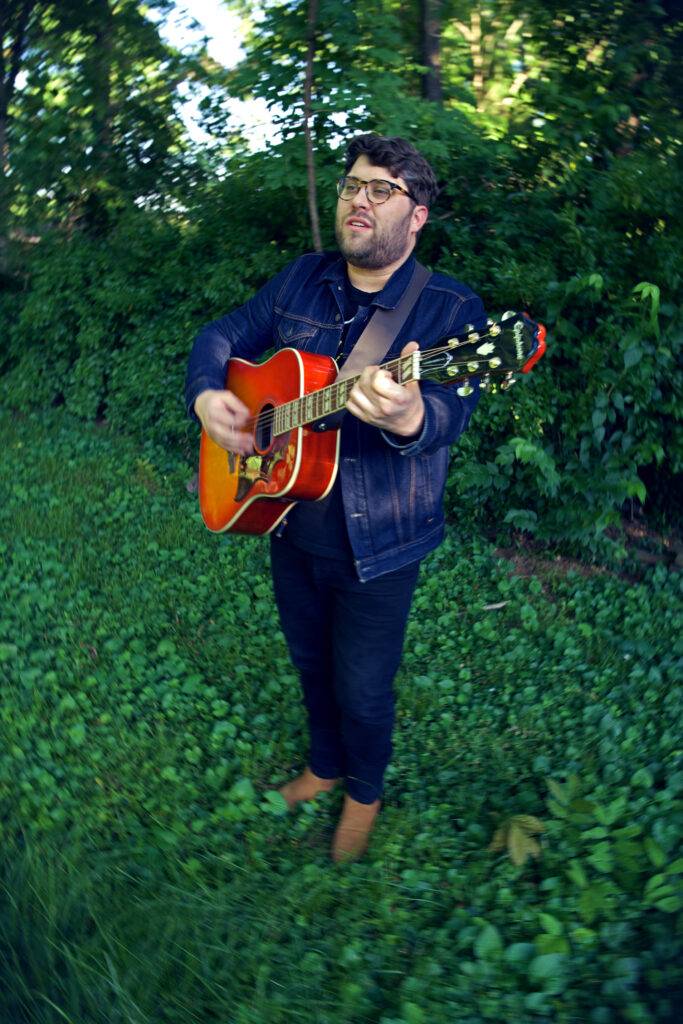 I've become obsessed with nearly everything coming out of the Nashville music scene at the moment. Is it a special place to be based when it comes to your creativity and artistry?
In all honesty, it's a bit of a double-edged sword. I love Nashville and love so much of what is happening here. At the same time, it is the undeniable center of the Bro Country universe which is a style of music I absolutely cannot get behind. As such, being from here can lead to a lot of initial assumptions about the kind of music you do. It can also make you feel like all of the good opportunities go to the mainstream people and those of us trying to forge a different path are left begging for scraps. Far be it from me to criticize anyone for the type of music they like or the career in music they want, but it's just not for me. That being said, if you go beyond the shiny facade of Broadway and all the stuff that comes along with it there is SO MUCH cool stuff happening here. Even though mainstream country isn't my thing, more classic-sounding artists like Margo Price, Jason Isbell and Josh Hedley (along with so many others) are right up my alley and believe in creating meaningful music day in and day out. Then there are a ton of great indie bands here like Twen, Snooper, and Country and Westerns who are killing it at the moment and helping to show people that Nashville ain't just cowboy boots and bachelorette parties. There may be times when it's frustrating, but if you keep working and putting your best foot forward, this town will eventually reward you for it.
Success is such a broad term with different meanings for everyone. What would "being successful" in the music industry look like to you?
I'd like to think I have a pretty modest view of what success would be for me. I have no desire to wind up on the cover of Rolling Stone or sell out Bridgestone Area. To me, that level of success comes with too much stress and scrutiny. At the end of the day, I want to be remembered for being an artist who put out emotionally honest and quality material into the world. And while it's shrinking, I believe there is still a market for that in today's music industry. Ideally, I'd land a record label that isn't obsessed with my numbers on social media or how well my TikToks are trending, but rather who is behind what I'm doing because they like the music too and want to share my artistic vision with the world. If I could get to the point of being able to put out a record every couple of years, go on the road to play decent-sized clubs across the country (and maybe abroad but I won't get greedy), and then come home and not have to worry about getting a job in the service industry to pay the bills until I get to do it all again, I'd definitely be a happy guy.  
If you were allowed to collaborate with any musician or band, who would you choose and why?
On the heels of the passing of Robbie Robertson, it would have been pretty special to play with or write a song with The Band. Those guys embodied the "road warrior" mentality of the rock bands of yesteryear and being out on the road doing shows night after night while at the same time writing some of the most meaningful music of the era would have been an absolute dream come true. That being said, that lifestyle took its toll on the group and I'm also aware of the complicated relationship between Robbie and the rest of the guys when it came to writing credits. Perhaps what I really mean is that I would have loved to be one of the friends they invited along to play with them at The Last Waltz. That is the greatest concert movie of all time and it's always been a dream of mine to be invited to perform during a Last Waltz tribute show that is often booked around Thanksgiving in celebration of the movie. Now the real question is which song would I want to perform? There are so many magical moments in the show but if I had to narrow it down I think I'd have to pick either 'Such A Night' which they do with Dr. John or 'It Makes No Difference' sung by their bassist Rick Danko. By all accounts, Rick was a wild and loveable guy, but when he sang his voice had this sorrowful and longing quality to it not many possess. It would be really magical to channel that on stage in front of a room full of people who love The Band just as much as I do.  
Thanks a lot for chatting with us Marshall! Just before we let you go, what can you tell us about your upcoming album? Do you have a release date yet? I can't wait to hear it!
I can tell you I'm really proud of the ten songs on 'Ways I Used To Feel.' For the longest time, I thought the songs on the album were just demos and that ultimately I'd get into the studio and re-record them with a band. For most of my career, my mentality has been that if something wasn't done the "proper" way with lots of fancy outboard gear in a big studio with an engineer then it shouldn't see the light of day. But somewhere along the way, I realized I had put way more work into these songs than the normal scope of a demo. Usually, for that, you grab an acoustic and your phone, lay it down quickly, and then move on. But I spent hundreds of hours on these tracks layering guitars, playing bass, adding keys, filling them out with auxiliary percussion and so much more. Eventually, I decided that these, in fact, were actually the final project. Do I love being in the studio and feeding off the energy of a group of people all creating something in the moment out of thin air? Absolutely. But after a while, it became clear that if I kept waiting for the perfect situation to come along no one was ever going to hear these songs. Songs that I am beyond thrilled with and think stand up to just about anything else out there. So it's been both a leap of faith and a huge relief to finally put them out into the world on my own terms.
I'm in talks with some folks about helping to put out the record so I don't have an exact date for the release yet. But trust me when I say…you'll be one of the first to know!      
---