We are pretty honoured to have had the chance to speak to Eljuri. Considered one of the top Latina guitar players in the world, the talented musician is currently endorsed by Gibson, and she's also a Billboard Songwriting Contest award winner. Under this aura of accomplishment, lays Eljuri the human being, the guitar player.
Growing up all around the world, including Ecuador, Spain and the US, she was able to refine an eclectic, personal playing style, infused with fusion, jazz and Latin influences. It is always great when genres 'contaminate' each other, but it is even greater when this 'contamination' is interpreted by one of the finest musical minds in the field, Eljuri.
Her latest release is expected for the 30th of September, and takes the shape of a 12-track album, 'Reflexion', exploring the magnitude of Eljuri's artistry, including her evocative, fierce vocals. Intrigued by the project, we caught up with her to find out more about his long journey into musical prowess. Interview below!
---
MESMERIZED: Hey Eljuri, how is it going? some of our readers might not be familiar with your project, how would you describe yourself, in a few words?

ELJURI: I'm a bilingual (Spanish/English) singer-songwriter and multi-instrumentalist. Besides singing, my favourite instrument is the guitar. I was born in Guayaquil, Ecuador and raised in NYC. Many of my songs are thematically about socially conscious issues and my music is a fusion of many influences – rock, Latin, reggae, funk, etc.
MESMERIZED: Your current work is the result of a long journey; What first drew you to making music?

EL: I was introduced to music and musicianship as a young child listening to and watching my mother Olga play the piano at home. A classically trained musician, she was a composer who released many of her songs in South America – beautiful tangos, boleros, waltzes and pasillos.
MESMERIZED: If you had the opportunity to pick any artists in the world for a collaboration, who would be your first choice? (and second choice, perhaps?)

EL: Impossible question to answer – maybe my first choice would be Bob Marley with Bonnie Raitt a close second.
MESMERIZED: You are gearing up for an album release in September, 'Reflexion'. What can we expect from it, and was there a particular influence that motivated you in writing for it?

EL: This is my 5th solo album and I am really proud of this release. When writing and arranging these songs I delved even deeper than ever. I was not rehearsing or touring due to COVID so I had time to really stretch. I focused on improving my home studio to really take my songs and arrangements to the next level.
MESMERIZED: Do you feel more confident writing music alone or within a team?

EL: I have collaborated with many writers over the years but I am much more interested in writing solo as I have with the vast majority of the songs on my last 5 albums. In my home studio with my voice and instruments, I worked out all the musical ideas. I really enjoy deeply exploring my vision for the complete journey from creating the song and developing the fully arranged demos on my own to finally recording with fellow musicians and sound engineers.
MESMERIZED: Your guitar playing is nearly legendary; Who were your guitar heroes growing up? Did you study with anyone in particular?

EL: I first started on piano which is a great instrument to learn musical theory on. I taught myself guitar and submerged myself listening to many greats: Jimmy Page, David Gilmour, Hendrix, Clapton, Bonnie Raitt, Ernie Isley, Stephen Stills, Nile Rogers, Nancy Wilson, B.B.King, Prince . . .
Growing up in NYC, I was able to go to many live concerts and clubs and be surrounded by amazing guitarists and musicians. I became very good friends with Jeff Buckley and we spent many hours playing guitar together and we shared our love of musical concepts – he introduced me to guitar modal theory.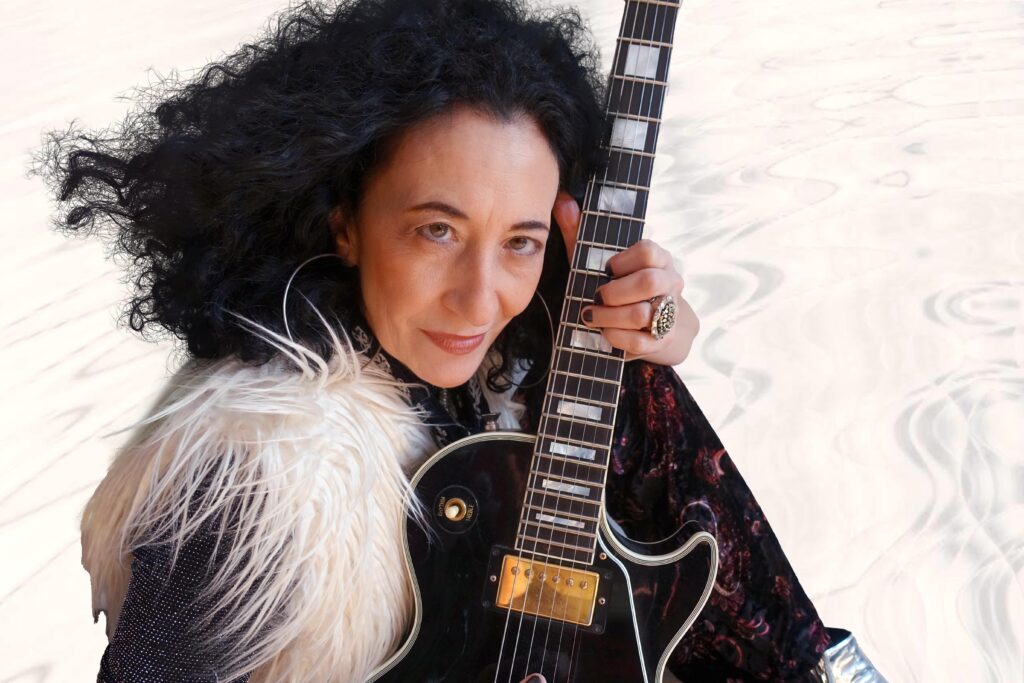 MESMERIZED: Artistically speaking, what challenges have the last two years presented you with?

EL: The COVID lockdown was really a tough time as I couldn't rehearse or tour with my players. It was challenging to not be able to play live with other musicians and connect with fans and audiences in real time. It was a solitary existence compared to what I'm used to and playing streaming solo concerts just isn't the same. The only good part was diving deeply into building up my home studio and writing/creating demos of a new album's worth of songs.
MESMERIZED: What are the next steps for your project? Anything exciting on the horizon?

EL: It's such an exciting time for me right now with so much going on!
Three of my singles have been released over the summer: 'Espejo', 'Salva La Tierra' and 'La Voz' with my full album 'Reflexión' launching September 30th. We have some awesome music videos that were released as well. We have been on tour in the United States for the past few months and it's been amazing to get back out there again. We have a few more dates in the US left ending with a record release concert scheduled in my hometown of NYC at Joe's Pub on September 28th. We then take off for a tour in Mexico in October 2022 and Benelux (Europe) scheduled for February 2023. So excited 😆
I love to stay in touch with fans through my website and social media accounts – make sure to follow me! (links below).
---
RECOMMENDED!