Reinhard Zwisler started his solo career in 2020, performing under the moniker of DJ Connery. The Austrian-based singer/songwriter has had music in his bones from the very beginning and has a certain knack for crafting sparkling melodies and infectious tunes. I recently came upon his latest single 'Someone', and I was instantly captivated by his sound.
I then found myself digging deeper into his discography, and discovered a true artist whose passion shines right through! Interested to know more about Reinhard, I was stoked when he agreed to an interview! Chatting with us about the inspiration behind 'Someone', what he believes music's role in society is, and his love for Matt Berninger, please give a big welcome to our new friend DJ Connery!
---
Welcome aboard Reinhard! It's great to have you here! Before we get into the nitty-gritty, please tell us a little bit about your musical journey. What has led you to where you are today?
I had a very long musical journey. It started at 5 and the first encounter was with an accordion. Later I learned to play some more instruments. I had my first band when I was 17 and it was a heavy metal band called Magic Mirror. But over time the journey led me to ever calmer beats. In 2019 I decided to start a solo career as DJ Connery.
I fell in love and was instantly entranced by your latest tune 'Someone'. That guitar is hypnotising! What can you tell our readers about the track? Do you remember it's "birth"?
It was late at night in a pub in Salzburg when I saw this wonderful woman at the bar. We started talking and she suddenly said, "I'll take you with me, that's okay."
On the way to the taxi, she had doubts and said I just wanted to cuddle. But the doubts quickly disappeared. What was clear from the start was that we wouldn't see each other again. The night was unforgettable but far too short. A few weeks later, when I was actually working on another song and playing these chords on the bass, I couldn't get it out of my head. And so I started writing the lyrics of 'Someone'. I tried to capture the tension of that night in tones. Yes, that's how it was.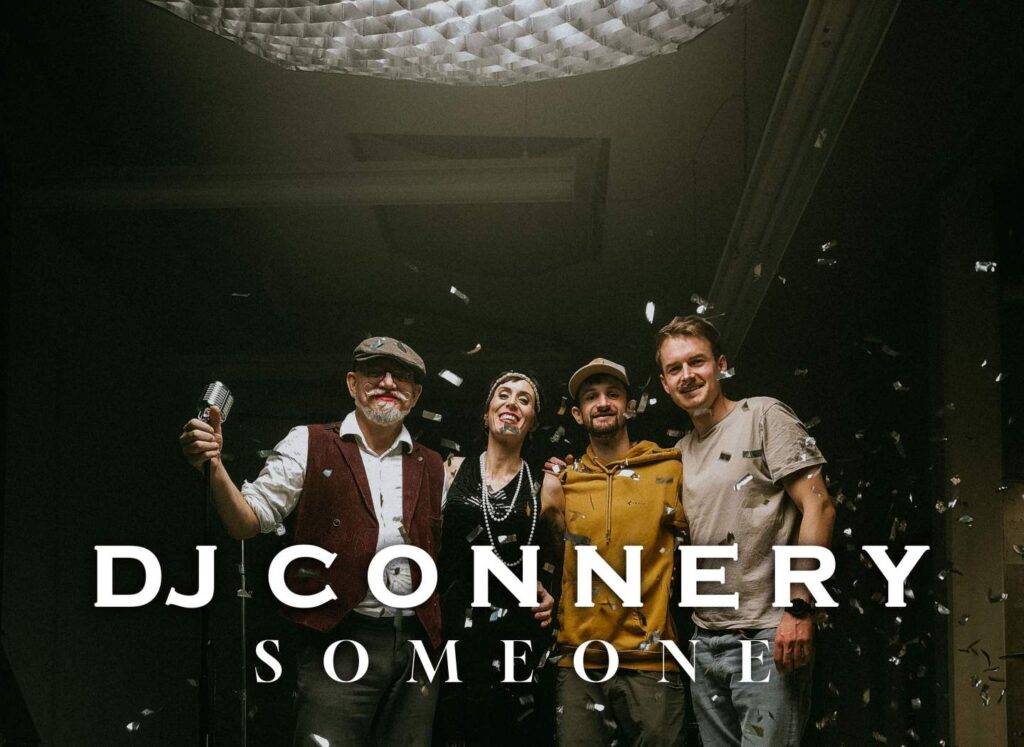 Who would you put down as some of your biggest musical influences and who would you ultimately credit for helping shape and mould your overall sound?
Vocally, I have always been inspired by bass-baritone singers. I was inspired early on by singers like Johnny Cash and Leonard Cohen. But my greatest inspiration in recent years has been Matt Berninger from The National. The National probably also had a big influence on my music.
What keeps you busy and happy when you're not creating new music? Walk us through a non-music day in the life of DJ Connery.
When I'm not making music, I'm pursuing my greatest passion. To fly! I have been flying paragliders for over 30 years. Especially here in the Alps! I have a wonderful environment right on my doorstep. There will probably be a song about flying from me at some point.
If you could claim one song in the world as your own, what would you go with and why?
When Matt Berninger released his song 'One More Second', it was as if he had written down what I had experienced. It was like the song was written for me. Of course, I couldn't resist recording a cover version of the song. A duet with the Salzburg jazz singer Alice Gerschpacher.
What, to you, is music's role in society?
I always try to make people think with my music. Not everything should be obvious at first glance. Music should not only spread joy but also make the world a better place. With 'I Love you but you hurt me' I wrote a song that is a lament from the earth to humanity. With 'Hey Man' I wanted to confront the arrogant dictators – those who do not shy away from killing people and exterminating entire peoples just for profit and money. The Beatles song 'Imagine' also comes to mind. A world without war and a world united in peace. This is also my wish and for me, the role of music is to improve humanity.
Is there a show or concert that you attended (or perhaps even played at) that just stands out from all of the rest? If so, please do tell.
A concert that I will probably never forget was that of Pink Floyd at the Wiener Neustadt airfield. The sound, the light show, and the thunderstorms in the nearby mountains created a special atmosphere!
It's been great getting to know you a bit better Reinhard! Thanks so much for your time! Before we let you go, what comes next for you musically?
First of all, 2 or 3 new singles are planned. And the production of a vinyl album is also on the agenda. Maybe also a small international tour.
---